ALL IN THE FAMILY
LINER NOTES
On Wednesday, before The Stamps were to leave on Thursday for what would be J.D.'s final trip, Marty, (my Wife) and I were sitting with J.D. in his car listening to the final mix of The Stamps latest record that I had just completed. (Released two months later as, "The Final Sessions")

At the conclusion of the listening session, J.D. as usual, bragged on my production and especially on himself, of course. (He always liked to brag on his bass singing, it always made the listener laugh)

Suddenly, J.D. got really serious and said to me, "Duck," (that's my family nickname) "I've had a dream ever since Elvis died and I'm gonna rearrange the Stamps as of January 1. This is how I want to do it. I wanna keep Rick (Strickland) on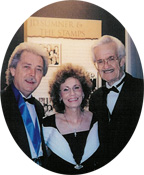 tenor, put Ed (Hill) in charge of the office and booking because it's gittin' too much for me since Mary died; I'm gonna replace Ed (Enoch) with Jeff (Donnie's son) as the lead singer and try to get C.J. Almgren to come back as the piano player. When I do that, I want you to join me and do the baritone part. I wanna do concerts on Friday and Saturday nights and I'll do the talkin' and then do two services in churches on Sunday and you do the talkin'. Maybe once a quarter we'll do a ten to fourteen day tour if I can hold up for it."
He then asked Marty to write down a list of songs (I still have the list on my desk labeled UNCLE JAKE'S NEXT RECORD) and told me to go home and start working on some really far out arrangements.
When I told him "Good bye and I love you" that morning I never knew it would be the last time I would ever have an opportunity to do so.

Uncle Jake never got to realize his dream but this project is as close to it as I can come at this time in eternity.
It is with great pleasure and pride that I present to you "ALL IN THE FAMILY" with three generations of Sumners …. J.D. (my Uncle), Jeff (my Son) Pete, (my Brother) and yours truly, Your Friend, Donnie.